The Jeroen Bosch Hospital, improvement through transparency
The Jeroen Bosch Hospital (JBH) in the Netherlands is not just a hospital; it is a specialised clinical service hospital and, within the Stichting Topklinische Ziekenhuizen foundation, one of the biggest hospitals. For patients this means they can count on high-quality care. Junior house officers, house officers and nurses are supervised here in their continued medical training. This hospital, centralised in the beautiful new location at the Henri Dunantstraat since April 2011, has 4,000 employees, including 240 medical specialists and is therefore the largest employer in the region. But those are not the only criteria that makes the Jeroen Bosch Hospital this special. The JBH employs four core values​​: customer focus, transparency, innovation and safety and is committed to continuously improving patient care. Advisors Anita van Haaren and Miriam Casarotto explain what goes on in JBH in that regard and others.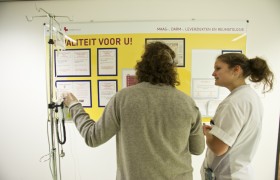 Quality of care is central
"In the Jeroen Bosch Hospital, we work on the quality of care daily," says Anita van Haaren. "It revolves around six dimensions, namely: patient safety, customer focus, effectiveness, punctuality, efficiency and equality. Patient safety is the first priority, with a bullet. We work every day to guarantee this priority."
Miriam Casarotto adds: "The quality of care is leading in everything we do and we set the standard in that regard. It is quite a cultural transformation, which requires a different mindset. We want to be as transparent as possible in this. The improvement and quality boards support us in doing this. They are a pleasant visual reminder of the criteria we should adhere to. To develop these boards we teamed up with TnP Visual Workplace. We are very satisfied with the result."
The Improvement Board: short-cycle improvement
"We want to continuously improve and learn what is going well, what is not going quite so well or what is not going well at all. We are therefore in constant flux and consequently it is difficult to maintain improvements", explains Anita van Haaren. "That is why we now have the improvement board. This board is not public, but intended for employees only. Everyone can note problems which can be solved short- cyclically according to the PDCA-method (plan, do, check, act). It is an excellent tool for employees and invites them to take personal responsibility. On the boards, besides points of improvement, they can also make improvement suggestions, state a final date and assign who is in charge. Our unit managers say that people enjoy working with it because not only the bottlenecks are made visible but also the solutions."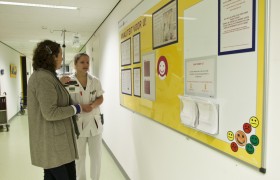 The Quality Board: Transparency
"We want to be as transparent as possible about the results of quality of care, so that patients know where they stand and what they can expect from the JBH, " Miriam Casarotto continues. "In the old location some departments started working with a quality wall. We have developed this plan in collaboration with TnP Visual Workplace into the quality board. On these boards one can find information about the quality of care in the relevant department displayed on an easy-to-understand way. This information can differ per department, it can for instance concern patient satisfaction, bedsores, malnutrition or the clinic's availability by phone. Our goal is not only to inform but also to be accountable for the quality of care. Patients can call us to account at any time. Transparency and honesty are very important. We do not only show our great achievements, but also the points where performance is lower. From experience, we know that the board encourages employees to continue to work on the quality of care and feel responsible for it."
The added value of the visual stimulus
But why doesn't the Jeroen Bosch Hospital process their data digitally? "The choice of the improvement and quality boards is a very conscious one", declared Miriam. "They invite you to do things yourself and to work on it. They are accessible to everyone and every department will have the option to make something unique out of it with colours, icons, pictures and magnetic windows in which information can be easily structured. On the children's department for instance, "the little frog" will be implemented in the board, as it is the mascot of the department. This is what makes it more personal and user-friendly, this is a tremendous incentive to use the board. In each department there are several people responsible for maintaining the board, so that all employees contribute and that the responsibility does not lie in the hands of one person only."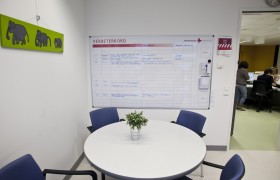 The quality of patient care at the highest level possible
"The Jeroen Bosch Hospital is not afraid to change," concluded Anita and Miriam, "because everything we do, we do wholeheartedly in the interests of patients. Maybe people will have get used to this much transparency, but those beautiful, colourful boards that have a very professional design, help us tremendously with achieving our goal: keeping the quality of patient care at the highest level possible."