"Temporary absence" boards at Wellantcollege Montfoort
Wellantcollege is the biggest green educational organisation of the Randstad (area in the Netherlands), and is a leading professional educational institution with 27 locations in North Holland , South Holland and the central Netherlands. Wellantcollege Montfoort offers intermediate vocational education to over 425 students in a green learning environment. Large and small animals, plants and flowers lend a green colour to education in this vibrant school. The location has a wonderful cookery classroom, a large technology classroom, a new open learning centre and a cosy cafeteria.

"Students are simultaneously working on different locations inside and outside the school"
This school delivers competency-based education. This means that in a multi-faceted learning environment, during performance time many students are simultaneously working at different locations inside and outside the school. Teachers lose track of an overview sometimes.
Jeanne van Jaarsveld , teacher and mentor at the school approached TnP searching for a well-organised solution for this "temporary absence". The idea for the "temporary absence" board arose. With the aid of this board, teachers have an overview of where the students are at that moment.
"The idea came from the teachers, but the development, design and advice came from TnP. They understood what the functionality of a board should be."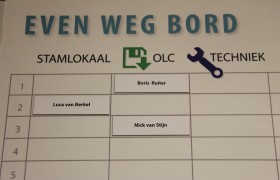 "See where someone is at a glance"
The temporary absence boards operate as they were intended. Each student has his or her own magnetic nametag and slides his or her name under the section where he/she is at that moment. A perfect solution in which you can find the location of someone at a glance. "The board provides an overview of information and a sense of ease during the classes. It also creates involvement and a sense of responsibility with the students. A perfect solution".
After a test with two boards, a roll-out throughout the entire school followed quickly.