TnP - Vacancies
Are you looking for a great new challenge, traineeship or graduation project? Take a look at our job opportunities below. We're always looking for reinforcements for our team. Is your function not listed? Send us an open application.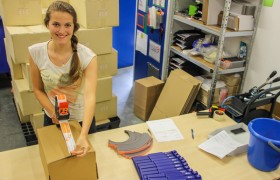 Part-time job or holiday job?
We always have vacancies for holiday workers, or for students who enjoy having a nice side-job. The work consists of carrying out assembly activities. You'll be manufacturing products with magnetic strips, magnetic tape, and/or round pot magnets.
Trainee 'MBO' or 'HBO' students
Would you like to join our team during your higher vocational ('HBO') studies? Or apply for an introductory traineeship for your secondary vocational ('MBO') studies. We'd be happy to introduce you to our world, teach you some more about Visual Management and its numerous possibilities. Because we're such a small team, we'll get you involved in everything. So everybody learns about all aspects, which will really give your traineeship an added value. Both for you, and for us!

Interested in one of our job opportunities?
Do you have any questions about the job vacancies, or do you want to know more? Contact us through the form below, and we will get back to you as soon as possible.
Do you have any questions about the vacancies or would you like more information? Please contact us via the following form and we will contact you shortly.